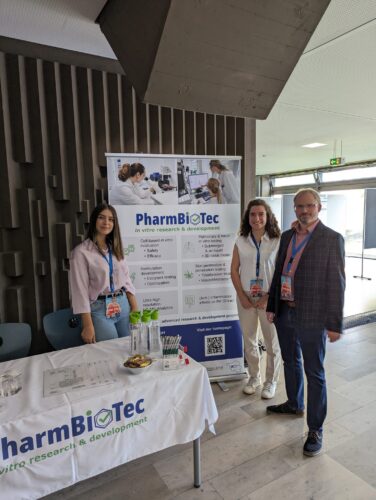 PharmBioTec drew attention to its in vitro methodologies against animal testing at the ISAM congress as a bronze sponsor. The congress of the "International Society for Aerosols in Medicine" met in Saarbrücken from August 26 to August 30, 2023. There we were able to make a versatile contribution to aerosol scientists from all over the world.
In a lecture, Dr. Marius Hittinger shared his knowledge with experts from the fields of medicine, toxicology and regulation. In parallel, young scientists demonstrated their research projects in the company at an exhibition stand. The "Nasal Cavity" model for investigating drug deposition was the perfect demonstration material. Interested parties were also able to find out about PharmBioTec's equipment and methods. In a poster about the Saarland's 3Rs network against animal testing, we were represented with our developed SAFE evaluation scheme. We were able to improve our assessment of safety and efficacy especially in the project "Kombipulmonal" (funding: INNO-KOM).
The ISAM congress gave us the opportunity to have a lively exchange about projects in research and industry and to establish new contacts. At the same time, PharmBioTec also met many friends and cooperation partners. Among them were scientists from MannKind Corp. to VITROCELL Systems, URSATEC, the Free University of Berlin and the Helmholtz Institute for Pharmaceutical Research in Saarland, to name just a few. An absolute highlight was that we were all able to marvel at the Saarschleife together during the conference. On the last day of the ISAM congress, we enthusiastically followed a stimulating lecture by virologist Prof. Dr. Christian Drosten, who convinced us with the application of modern in vitro methodologies.
In summary, the ISAM congress was a complete success for PharmBioTec. We were able to actively support young scientists and to plan new projects already during the congress. It was a key experience for us to observe how science all over the world is developing towards in vitro models to replace animal testing.